Leighton will visit 30 cities in the United States in 200 days which have the largest homeless population. He will be partnering with the local Jeep and off road clubs in each city on Saturdays to give out hygiene kits, blankets, food, fruit, baked goods, water and other items such as clothing.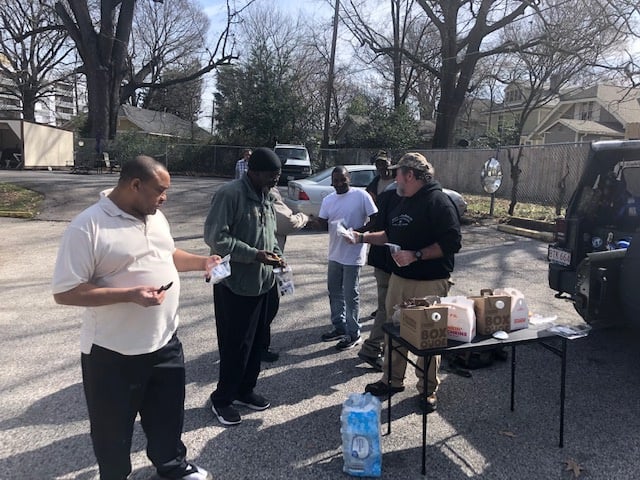 Purpose

1.Enhance understanding of homelessness in the United States in general and specifically to the residents of each community visited.
a. A trusting rapport will be created with homeless people in each city so they feel comfortable enough telling their personal stories of how they became homeless. These relationships will be developed by understanding their situations personally, distributing food and volunteering at shelters. Stories will be recorded (with their signed permission) on video or with still photographs and these stories, videos or still photographs will be shared on social media. The goal will be to drive people to the YouTube channel and social media to see and hear these stories.

b. Give suggestions and ideas to people in each city on how they can help homeless people in their own community.
Volunteer at a shelter
Donate food, clothing, bedding and toiletries to a shelter
Bring leftover food from events to a shelter
Financially support shelters
Encourage local government officials to create affordable housing
Encourage development of programs in their communities to improve the lives of the homeless by education, recovery, physical and mental health.
Serve as an example to their own families as to how the homeless can be helped.
2. Development of programs in communities to improve the lives of homeless by education, recovery, physical and mental health.
a. Organizations that help the homeless in the cities to be visited will be contacted 4-8 months prior to the his trip. Testimonies, videos, photographs will be shared of the homeless and their stories which will enable them to see how they can help the homeless in their own community.

b. Homeless shelters in the cities to be visited will be contacted prior to his trip so that there will be a better understanding about the homelessness situation in that city. Volunteering at some of these shelters and distribution of food, water and toiletries will occur providing partners to help provide such supplies.
3. Development of a National Program in the United States to help the homeless.
a. Due to the extent, visibility and enthusiasm of the Jeep Community in the United States, this group will be actively reached out to. The following is in detail how this will happen.



Leighton will be reaching out to the "Jeep Community". He purchased a Jeep Wrangler in June of 2018 and quickly discovered there is an extremely large community of Jeep owners and Jeep enthusiasts in the United States and all over the world. These Jeep enthusiasts can't get enough information about how they can modify their Jeeps, where they can take them overlanding, off-roading and camping. Jeep enthusiasts love to watch videos about Jeeps and follow other Jeep owners modifications and travels on social media. There are hundreds of Jeep clubs in the United States and they enjoy getting together a few times a month to show off their Jeep, meet other Jeep owners and go off-roading.



By using social media and his blog, Leighton hopes to drive traffic to his stories about the homeless and to the Mission For Hope website. He will have a "Saturday Jeep Meet-Up" in each city he visits. He will contact Jeep Clubs in the area he will be visiting months before leaving on his trip. The first Jeep was built in 1941 and there are millions of Jeep owners in the US. Eight hundred to nine hundred thousand Jeeps are sold every year. It's not uncommon for 25 year old Jeeps to still be on the road. Many Jeep owners are fanatics about owning a Jeep. They even have a special wave when they drive by another Jeep.



The "brand" of this initial trip will be Leighton in an Army Jeep traveling the country on a low budget. For the last few months Leighton has been doing practices trips in his Jeep up and down the East Coast. On theses practice trips he has been camping in National Forests, State Parks and campgrounds and once while sleeping at a truck stop or Walmart parking lot. Leighton has been camping since he was a small child and has traveled throughout the World for 30 years.



He will gear some of his social media content to those Jeep owners and non Jeep owners who love to see beautiful footage of the countryside of the United States. Leighton will shoot this footage while he is traveling from city to city; such as British Columbia and the way to and from Anchorage. He has designed his schedule so he will have many opportunities to photograph beautiful rural areas in the mountains and by the ocean. He has also designed his travel schedule so that he is in cities when they have the best weather for their location.
Leighton has decided to go with an Army Jeep theme for his Jeep because it isn't done a lot with Jeeps and he is on a "Mission". He chose the name "Mission for Hope" so it could be used in future years for the program. Decals will be made and applied to his Jeep with the "Mission for Hope" logo. Partner's logo decals could be added to the Jeep as well. A spare-tire cover has been made with the "Mission for Hope" logo. On the bottom of the logo on the spare-tire cover there will be a sleeve in which the name of the city he is traveling to can be inserted. Two hundred green bracelets have been produced with "Mission For Hope" and "Homelessness Awareness" imprinted in white on the bracelets. These bracelets will be used as part of the fundraising campaign.

The website address has been added to the left and ride side of the hood. Army green tee shirts will be made for Leighton with a logo on the front and the list of the 30 cities he is visiting on the back. "I'm Jake" is one of the most followed Jeep travelers in the world. He has Jeep meet ups all over the country that are very well attended. He did his first video in January 2016 about living on a small sailboat in Oregon. His first Jeep video was two months later. He now has 132,000 YouTube subscribers, 21,000 Instagram followers and 8,400 Facebook followers. He is a bit of a celebrity in the Jeep community and his Jeep is instantly recognizable no matter where he travels too. Leighton's mission is to bring this kind of attention to the plight of homelessness in the United States. Leighton will connect with homeless veterans and thinks his Jeep will create some curiosity especially if he is distributing food from his Jeep.

Leighton as been helping the homeless for over 30 years. In the mid 80's he did fund-raising for the Pine Street Inn in Boston as well as serving meals there. He has also helped the homeless locally as well as Spain and Kolkata. He donates food and clothing often to River House homeless shelter in Beverly. Four years ago he participated in a training program so he can volunteer at local shelters in the evening when needed. He supports local organizations that help the homeless such as the North Shore United Way and Beverly Boot Straps. Most recently he has been working with his Homeless Care team at Good Hope, Inc. to prepare meals for local homeless shelters.