About
Mission accomplished! I did a 197 day trip in my Jeep to 46 of the most homeless cities in North America. Thank you for your support, encouragement & prayers. I partnered with local Jeep and off road clubs in each city to give out hygiene kits, blankets, clothing, food, water, hugs and Bibles. We did outreach to the homeless in Indianapolis, Chicago, Denver, Fairbanks, Anchorage, Seattle, Portland, San Francisco, San Jose, Salinas, Riverside, Los Angeles, Santa Ana, San Diego, Las Vegas, Phoenix, Albuquerque, Roswell, Dallas, New Orleans, Jackson, Mobile, Tampa, Saint Petersburg, Key West, Miami, Fort Lauderdale, Port Saint Lucie, Atlanta, Greenville, Nashville, Durham, Washington DC, Baltimore, Philadelphia, The Bronx, Springfield MA, Burlington VT, Portland MA, Boston, Revere, Lynn, Salem MA, Calgary, Prince George and Vancouver, BC.
Purpose
Bring the awareness of homelessness to people who don't understand how people become homeless.


Encourage people to help homeless people in their own community.

Research current programs across the United States to see which programs have the most success in reducing homelessness and supporting the homeless.

Share the Gospel and minister to people.

Thanks & Blessings,
Rev. Leighton O'Connor
Calvary Christian Church/Assemblies Of God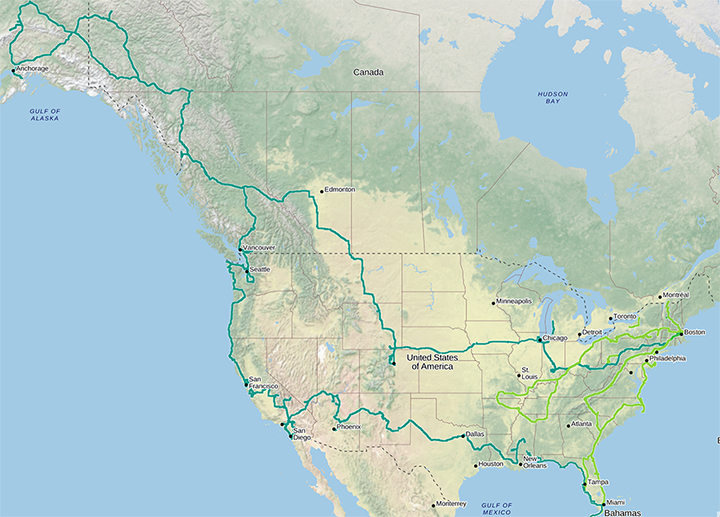 Route Traveled - 27,413 Miles